Professional Web Design And Development Company
Our Website development experts are ready to deliver a website you can be proud of.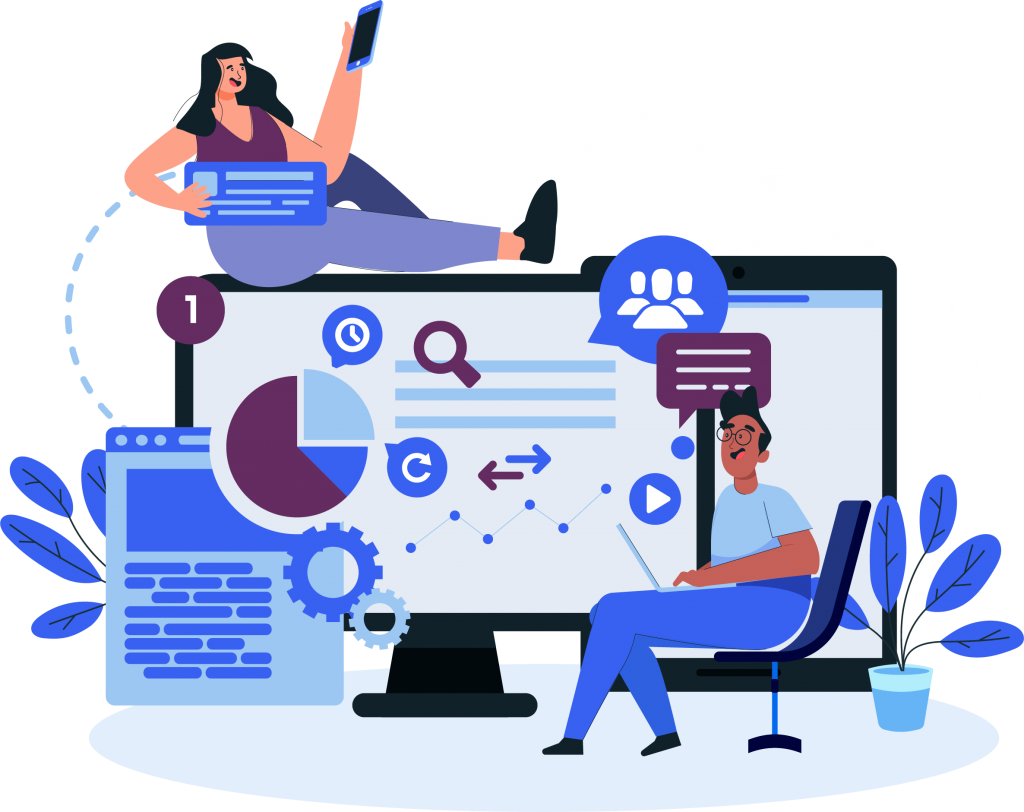 Get A Perfect Design For Your Website From A Leading Design Agency
With numerous years of experience in the web development industry, we are the leading web design agency. Since a global pandemic has hit us, any business that wanted to survive the financially testing times had to move to online platforms. To do that, the first and foremost thing that had to be done was website design and development. As one of the top web designing companies, we have designed and developed various efficient and responsive websites for multiple businesses. As a reliable website development firm, we understand that every business has diverse website requirements according to their niche. Our extended experience enables us to comprehend their requirements fully and craft time-efficient and user-interactive websites for them. Many companies while making websites may ignore the minute details and non-functional requirements, which can be one of the reasons to lose potential customers. We are different because other than functional requirements, we have our focus on user experience and user-friendliness, which easily score a website some bonus points and thus, promotes the business. All these factors make us a favorite website building company among our clients, so come to us for any website development requests.
What Includes In Our Web Design & Development Services?
01
E-Commerce Development
The development of e-commerce websites for businesses is known as e-commerce development. It is the best possible way for a business to enter the online marketing world. Our E-commerce developers can make wide-scoped e-commerce websites with large databases and low response-time within a small window of time.


02
Customize Web Development
When you talk about customization, it covers everything. A customized website is designed to give the utmost user experience, meeting the targets. Most business websites' core functionalities are almost identical. Customizing a website design includes managing layouts, carefully designing a color theme, and crafting a design that revolves around the business/products.
03
PHP Web Development
PHP web development is the most renowned form of website development. As PHP is a free tool that aids in developing dynamic and responsive websites. PHP development involves Laravel development as well. Laravel is a framework of PHP that enables the developers to make extensive PHP based websites in reduced times and with increased productivity!


04
WordPress Web Development
WordPress is an incredibly strong content management tool (CMS), and hardly any other CMS reaches the exceptional functionalities that WordPress offers. WordPress is based entirely on PHP and MySQL and takes the best perks from both of them. WordPress offers various advanced features and easy techniques to ensure an interactive website is built within the minimum possible time with aggregated advanced functionalities.
05
Web App Development
Web app development is one of our top services. Static, dynamic, responsive, interactive, you name it, we can build that kind of website. Web app development encapsulates a wide range of services, and we excel at all of them. We incorporate the most suitable databases with our web sites to support user functionality to the fullest.





06
Shopify to WooCommerce Development
While Shopify is a remarkable tool to run an e-commerce business, but with increasing business, many people realize that it is better to shift on a self-hosted option like WooCommerce, for better management and branding. The process of shifting from Shopify to WooCommerce is intensive, but entirely possible with careful handling.




Why Choose Us For Web Design & Development Services?
Having the best web designers to design user-interactive and UI/UX websites, we take the lead in creating responsive website designs. Quality Resource LLC's websites yield results as soon as they are hosted live for the world to interact with them. One of the essential elements for an e-commerce business to succeed is, to have their website designed by someone who understands their brand needs. Even in the same niche, each business requires custom e-commerce web design services that suit their company/product. We have experienced web designers and web developers who have dealt with complex requirements and created diverse websites. They can understand any business requirement and fulfil it almost immediately.
Contact us to build your website!
Creativity bleeds from the pen of inspiration, Let us create websites for you that engage users and empower your business.
Things-To-Do For Completion Of Project
01- Gather Information
Requirement elicitation, also known as information gathering, is one of the pioneer steps towards project development and completion. All the necessary information to create a well-explained software requirement document is gathered in this phase. The web engineer determines user, stakeholder, and company expectations from the system, and it gives him a detailed insight into the project that he is going to start.
02- Planning
Planning is the second phase of a project life cycle, in which project goals are determined using the information gathered before. After determining the goals, a high-level plan is initiated that aims to control the whole flow of the web app development. With the right planning at this phase, the whole project can be controlled and directed in a systemized way.
03- Design & Coding
This is the phase where we determine which architectures will be best suited for your web application development. After analyzing the architecture part, design patterns are sorted out. Various architectures and design patterns aid the project for different types of web app development once it goes into the coding phase. Coding is the implementation of the actual concept into something that is concrete.
04- Testing
Depending upon the testing technique being used, testing can be done simultaneously while the project is in the coding phase or after it. Each component is tested before integrating it into another component. After the system is put together, it is then tested as a whole. Rigorous testing and validation and verification are done to ensure the project that is built is correct and works as expected.
Check out some Clients reviews and their Experience
These guys have been extremely professional and polite. I am very happy with their work
Quality Resource was very accommodating with every request we had. Although we provided the design, he not only made it look great, but added an extra features which made it look even better.
Get Free Audit of Your Website
Frequently Asked Questions
What is Responsive Web Design?
Responsive website design is the result-oriented approach used by thousands of businesses that suggests that design and development should respond to the user's behavior and environment based on devices, screen, platform, and orientation.
Isn't WordPress Just for Blogging?
Absolutely not! WordPress.com was started as a blogging platform but now it has become a full CMS that is used around the world for creating both blogs and business websites.
What is a Mobile-Friendly Website?
A Mobile-Friendly Website is one that displays correctly on hand-held devices such as smartphones, iPhones, iPads, and tablets.
What is an SEO-Friendly Website?
An SEO friendly website is easy to navigate, simple to use and designed in such a way that it appeals to both human users and search engines. A good looking website is not enough for your business.