Make your Brand Worthy Through Social Media Marketing Service!
Our Tips will help you to burgeon your brand value by managing social media platforms campaigns.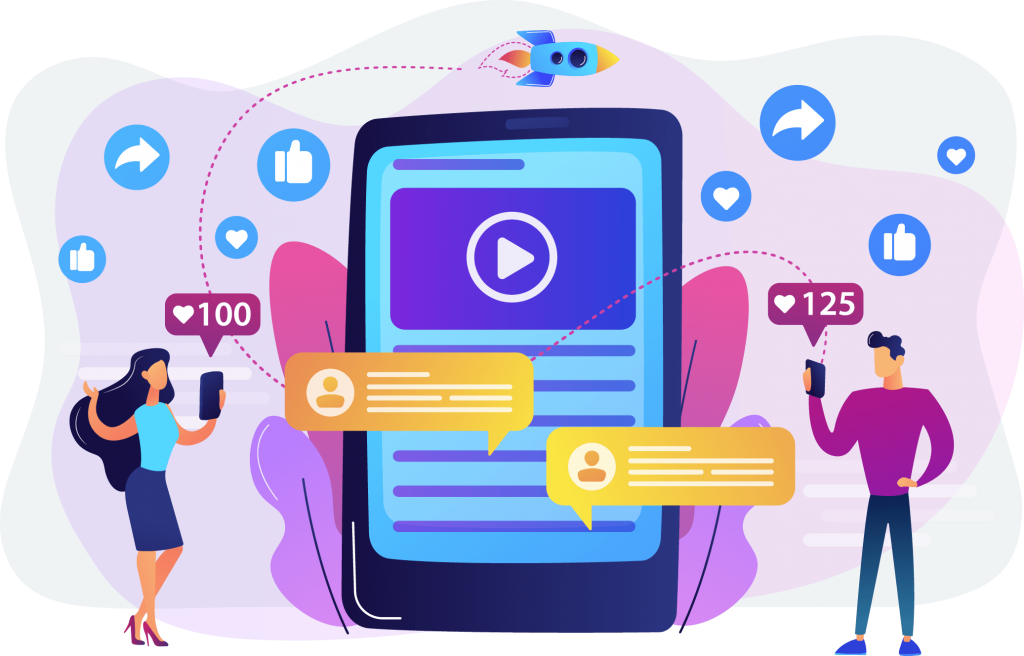 Get Benefits from Social Media Marketing (SMM) Services!
The power of social media is highly commendable as it allows you to reach out to hundreds of thousands of people with proper marketing strategies. SMM is the use of various social media platforms to attract your targeted audience. If you want to increase your brand awareness, then you definitely need Social Media Marketing services. Quality Resourcing Group LLC is one of the top social media marketing companies and top social media agencies that are here to uplift your brand's value with the help of powerful marketing strategies and tactics. We publish high-value content on various social media platforms and engage your followers to improve brand loyalty and increased inbound traffic. Social media platforms are always evolving. At first, people used to upload textual content, but the nature of the content is changing over time. At Quality Resourcing Group LLC, we make sure to cope with the latest trends and technologies to provide you with the right SMM services. Being a top-notch social media marketing firm, we leave no stone unturned to meet your business needs. We let you share your business idea with the community that let your audience know you better. Besides, it also lets you know about your competitors. So, if you want to get in touch with one of the best social media marketing companies, then you can count on us!
Start Social Media Campaigns With Us!
Social media is a highly essential part of your business marketing campaigns and strategies. With powerful social media marketing, you can upsurge your brand's visibility and awareness which will eventually result in increased website traffic and sales. Quality Resourcing Group LLC is here to help you thrive in the world of social media. Our social media management services are specially designed to cater to your business needs. We provide top-of-the-line digital media management services so that you can focus on other things related to your business. We have a team of highly qualified and adept social media managers. We will help you reach out to countless customers countless. So, hire us today!
How We Achieve Our Target For Social Media Marketing (SMM)
01
01
Identification And Assessment
Identification and assessment of your social media marketing output help ensure the delivery of your content and profiles. At Quality Resourcing Group LLC, we determine which of your company's primary performance measures matter. Our personalized, in-depth identification and assessment initiatives provide reports of social media campaigns that include a comprehensive overview of your success on social media. We also have a monthly rundown of the activities we have completed on social media and the hours we have spent helping you track your ROI.
02
02
Making Strategy And Implementation
Social networking strategies and techniques have to remain one step ahead as the internet culture expands and evolves. Our social media marketing experts have you covered whether you want to increase the likes or follows of your company's page or need a tailored campaign to generate sales and new clients. At Quality Resourcing Group LLC, our specialists know how to plan and execute productive social media marketing strategies for businesses in an innovative manner.


03
03
Regularly Scheduled Updates
Not everyone likes schedules; they need consistency and can sometimes feel uncreative, but it can help encourage creativity by getting a social media posting schedule while saving you time and guesswork. By scheduling your social media content, we not only save you time and money but ensure your marketing strategy is producing the results. Next, we don't republish material that is time-sensitive. We stick to evergreen collateral that's still important for months to come and can breathe new life into your marketing campaigns.
04
04
Monitoring
At Quality Resourcing Group LLC, we conduct all-inclusive monitoring of your social media campaigns. In this way, we get to know the analytics and issues, if any, and then compile your social media strategy accordingly. Our social media marketing experts provide you with an in-depth breakdown of the social media marketing strategy at the launch of your campaign. This way, to achieve your goals, you will know what marketing strategies we will implement. Besides, from the get-go, we set up your campaign metrics to ensure we are on the same page.
05
05
Blogging
All your digital platforms need persuasive, informative content to express your unique brand message. Entrust our experts in social media marketing with your content creation and blogging. In this way, you will get quality content that appeals to your audience. To maximize your marketing success through blogging, we conduct comprehensive market research, adopt your brand voice, and design valuable content.




06
06
Targeting specific keywords
We show you a more precise picture of your social media marketing management. We know how to build and efficiently convey your message by studying and defining social media keywords. With us, you get the whole "pull" and benefit out of your social media marketing strategy. By applying this degree of keyword expertise to all your social media optimization activities (from optimized content to picture tagging, social bookmarking, to targeted tweets), we make sure you reach the targeted audience. In this way, your business surges, and your digital presence grows significantly.
07
07
Utilization
Quality Resourcing Group LLC has expertise in all dimensions in several unique markets, including B2B and B2C. Our social media marketing company aims to go above and beyond your standards, whether you own an enterprise, start up, or multi-location corporation. We give your business a strong social media reputation and digital presence through sustained analysis, monitoring, and responsiveness to online developments and tools. It is what makes us unique and enhances our utilization for our valued clients.
Contact Us Now To Hire Our Social Media Marketing Services
Frequently Asked Questions
What is Social Media Marketing?
Social media marketing is a method of online marketing that uses various social media networks, such as Twitter, Facebook, Pinterest, and LinkedIn, to create brand awareness, capture the attention of consumers and connect brands to a more significant, more diverse section of the audience. Small company and enterprise social media marketing is a practical approach to engage your customers exactly where they spend all their time browsing. In this way, they enhance your brand awareness. Your SEO and digital marketing strategies are significantly impacted by an advanced social media marketing campaign, generating more leads and income sources for your company.
How To Start a Social Media Marketing Agency?
Although it takes loads of time and effort to start any small company, establishing a social media marketing agency can be extremely challenging. With the correct tips and equipment, though, you can get up and running in no time. The focus of your agency will be your niche. It can help you zero-in on what channels and sectors you can partner with comfortably. You'll have to develop a business plan and decide on the layout of your business. It will help you create your company's framework and construct a plan for your future. There will be no trouble building a solid foundation for your agency to build on with the proper planning and strategies.
What is a Common Issue With Social Media Marketing Plans?
One of the major issues that are common with social media marketing plans is not having the right resources to execute particular plans. Apart from that, not following the trends and coping with social media evaluation can also be a huge issue with social media marketing plans. Not providing the right content keeping your targeted audience in mind can be an issue you will face during your social media marketing journey. Hope every social media marketer is paying attention to every detail as most marketers forget and neglect certain strategies that are essential for the right social media campaign.
Why Social Media Marketing?
Countless people are shifting from conventional websites to social media platforms. If a business does not advertise on social media, they will lose a considerable portion of their targeted audience. People hold their phone in their hands all the time, scrolling through their feeds every now and then. The chances of a business's advertisement to show up on their feed are extremely high. So, we recommend that a business never ignore its social media marketing if they want to yield results through their marketing strategies.
Why Is Social Media Marketing Important?
Social media marketing is extremely important when it comes to grabbing the right audience's attention. Different social media platforms help businesses create demographic charts and advertise their business infront of people who might need their products. In social media advertisements, people get to see instant reviews and personal comments that encourage them to trust the brand more and buy their services or products. As we said before, we always encourage all our clients to have their business's advertised on social media to increase the traffic on their business.